In order to have more key stocks for the list market, Viet Nam Association of Financial Investors (VAFI) has proposed to the government a list of 11 enterprises, which are significant in size, performing well, easy to equitize and can be listed any time soon.
After making contribution to the draft of Law on Securities suggesting the abolition of unnecessary sub-licenses, VAFI went on to introduce to the government their solutions to boost the equitization process with the list of 11 companies attractive to investors.
Included in the list are:
5 companies which already have equitization approvals:
+ Bank for Foreign Trade of Viet Nam (Vietcombank)
+ Bank for Development and Investment of Viet Nam (BIDV)
+ VinaPhone Network
+ MobiFone Network
+ Viet Nam Insurance Corporation (Bao Viet)
6 companies, which have not had official approvals yet, planned to equitize by the government's decree of equitization:
+ Hanoi Beer, Alcohol and Beverage Corporation
+ Saigon Beer, Alcohol and Beverage Corporation (Sabeco)
+ Viet Tien Garment Company (VTEC)
+ Nitrogen Fertilizer and Petroleum Chemicals Company
+ Viet Nam Ocean Shipping Company (Vosco)
According to VAFI's plan, if these 11 giants finish their equitization and listing process in the next two years (2006 – 2007), the total value of Viet Nam's stock market will amount to USD 15 billion, 15 times its current size. VAFI suggested the government to establish a "special Taskforce" group including Ministry of Finance and The National Steering Committee for Enterprise Reform and Development as key members to accelerate the equitization process of these companies.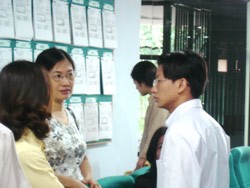 Investors expect "quality goods" for the stock market. (Photo: T.C)
As investors are paying special attention to these companies, their equitization and listing is indispensable and will create significant revenue for the State's budget, experts said.
However, equitizing these companies is not as easy as VAFI has stated. In fact, Vietcombank is struggling with its process and unlikely to be equitized by the end of this year, although it has finished issuing convertibles since 2005, as a transitional phase. VinaPhone and MobiFone have yet to find a feasible equitization plan. As for Bao Viet, BIDV and others, it is still too early to tell.
Therefore, VAFI's proposal will help the government boost the equitization process of these major enterprises. The goal might not be reached in 2 year as in VAFI's plan but the need of worthy enterprises for the stock market is definitely achievable by the year 2010. Viet Nam's stock market will step higher with the listing of these giants.
Related Articles:
Electricity of Viet Nam to Sell VND350 Billion in Bonds
BIDV to Issue VND 5,000 – 6,000 Billions of Bonds
Pharmaceutical Shares Are Welcome