A sharp drop in blue chips dragged the VN-Index down, by 16.15 points this time, to close at 958.48.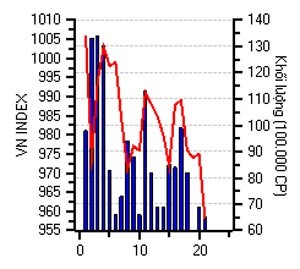 The chart of today's session

Top caps continued their slides as a sequence of declines in buy orders brought gloom to this morning's session.

Hoa Phat (HPG) fell VND4,500, Phu My Fertilizer and Chemicals (DPM) cast off VND3,000, Saigon Securities (SSI) slid VND5,000, FPT Corporation (FPT) fell VND4,000, Petro Vietnam Drilling and Well Services (PVD) and Vincom (VIC) both dropped VND2,000 and Pha Lai Thermal Power (PPC) and Vinamilk (VNM) tossed VND1,000 out the window.

Meanwhile, thanks to its recent auction, Vietcombank (VCB) is expected to attract more sell orders and investors have come to believe VCB may soon reach VND150,000 a share.

Investors hence started to exchange other banks' shares for VCB's. Sacombank (STB) and Asia Commercial Bank (ACB) saw sharp drops in value, falling VND1,000 and VND3,400 respectively.

Newcomer PVTrans (PVT) didn't slip the session's pessimism. PVT sells swamped the market, over 2.1 million shares, and their price dropped 20 percent from its value on the OTC market before listing. PVT is forecast to drop even lower, creating anxiety in owners of other newly issued shares.

Investors have at last become quite concerned about the market's ongoing slide. Many worry the sentiment embedded in VN-Index's current decline will adversely affect upcoming large-scale offerings, especially if it drops below 900 points.