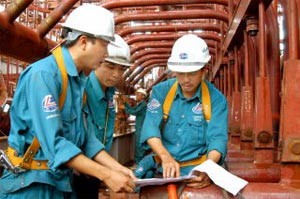 Workers of the Electricity of Vietnam Group study the national grid. (Photo:TK)
The Vietnam Electricity Group (EVN) has received the central government's approval for a recently-submitted plan to go public with all subsidiaries by the end of 2008, two years earlier than scheduled.
Prime Minister Nguyen Tan Dung yesterday signed a decision to allow twenty-four of EVN's subsidiaries to go public by the end of this year.
Among the affiliates are several major plants such as the Ba Ria, Ninh Binh and Uong Bi thermo-electric plants and the Da Nhim – Ham Thuan – Da My Hydropower Plant in the central highlands.
The decision will also allow five other subsidiaries to go public by the end of 2008, including the EVN Telecommunication Corporation, the Ha Noi and Ho Chi Minh Electric companies, the Electric Finance Co. and the Tuyen Quang and Dai Ninh hydro-electric plants.
According to the EVN, twenty-one subsidiaries have already auctioned off shares worth a total of more than VND19 trillion (US$1.2 billion).