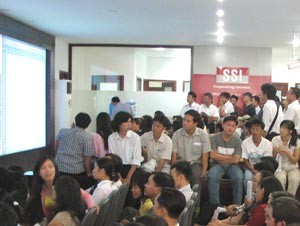 Bondholders can receive interest and principal via their custody accounts at SSI. (Photo: T.C)
The Electricity of Viet Nam (EVN) is going to issue VND-900-billion worth of bonds with par value of VND 100,000 each to raise funds for three hydro-power projects: Ban Ve, Se San 4, and AnKhe – Knak.
These 5-year-term bonds, coded EVNBOND406, are unsecured and will be issued today (July 20).
Interest in the first year will be 9.5%. In the following years, interest will be based on the average annual deposit rate - announced on the day of previous year's interest payment - of the 4 state-run banks (Vietcombank, Incombank, Agribank and BIDV) plus 1.2%.
Interest will be paid annually while the principal will be paid upon maturity.
Bondholders can only receive interest and principal via their custody accounts at the Sai Gon Securities Incorporation (SSI).
When bonds are traded on the bourse, the payment of principal and interest will be conducted in accordance with the bourse regulations.
EVN will not buyback and/or accept the bonds as mortgage upon request of bondholders. EVN cannot buyback on the secondary market either. Bonds can be pledged at other credit institutions if accepted.
Related Articles:
Ho Chi Minh City Urban Bonds Auctioned on Ha Noi Bourse
EVN Prepares To Issue An Extra VND 600 Billion Worth Of Bonds
EVN Signs Funding Framework Agreements
EVN to Sell State-Own Shares to Strategic Investors