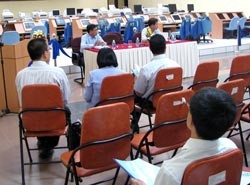 EVN want to sell shares for strategic investors. (Photo: T.C)
Electricity of Viet Nam (EVN) has not yet had a plan for selling more shares of Vinh Son – Song Hinh Hydro Power Joint-stock Company (VSH) but it will offer Pha Lai Thermal Power Joint-stock Company's (PPC) shares to both strategic partners and the public.
Regarding VSH, it currently has many feasible power supply projects to build. If the plant mobilizes more capital to finance those projects by issuing more shares to increase its chartered capital, which means a decrease of EVN's current 60% stake to less than 50% EVN might have to pour more money into the plant to maintain its controlling stake.
In the case of PPC and Thac Ba Hydro Power Joint-stock Company (Thac Ba), the share sale will involve strategic investors who have financial, managerial and technologial strength, long-term commitment to the plants, and willingness to accept an above-the-market price to own a large stake. The remaining will be offered to the public through auction.
Currently, EVN has appraised 4 power generation plants: Uong Bi Thermal Power, Ninh Binh Thermal Power, Ba Ria Thermal Power and Thac Mo Hydro Power. By the end of this year, EVN will assess the value of Da Nhim – Ham Thuan – Da Mi Hydro Power Company, making it ready to be equitized. Besides, 13 of its provincial electricity companies will also be assessed.
As planned, by the end of this year, EVN is going to initiate the equitization process of one power plant and 4 electricity construction consultancy companies and 4 other consulting subsidiaries of provincial electricity companies.
Related Articles:
Pha Lai - Biggest Company On The Stock Market
EVN to Sell More Shares of Equitized Plants
EVN Should Reduce Its Holding in Equitized Plants: VAFI