The last four trading sessions at the HCMC Securities Trading Centre resulted in a drop on the VN-Index from 1,001.12 points to 905.5.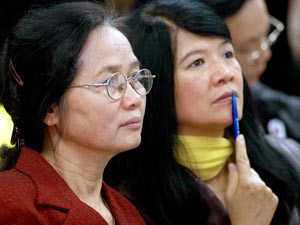 Investors watch the board pensively
Many local investors tried to sell off their stocks after rumors spread that the index will fall to 800 points, causing a rapid collapse of the market.
Foreign investors, meanwhile, have recently engaged in a selling trend. In the last three sessions, they bought 4.62 million stocks worth more than US$33 million but sold 5.37 million (US$42 million).
While the difference of US$9 million was small, it nonetheless caused dozens of small investors to panic and sell off their stocks.
Even though the price of stocks went down sharply, there were few buyers. Over the last two weeks, the capitalization of the Vietnamese stock market has declined by an average of US$28 million per session.