Most of listed enterprises suffered heavy losses mainly from sharp increases in financial expenses and input costs despite their positive revenue.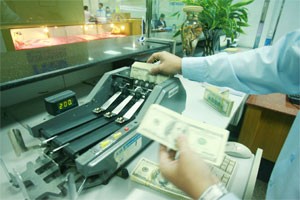 An electrical board show daily updates on interest and foreign exchange rates at HCMC-based Dong A Bank. High financial expenses and increasing input costs are among major causes of many listed firms' second-quarter losses (Photo: Minh Tri)
Construction firm Meco JSC, listing on the Ho Chi Minh Stock Exchange, announces in a financial report that it incurred a first-ever loss of VND8 billion (US$381,000) in the second quarter.
Its net sales in the second quarter show a contrast picture, surging over 72 percent year-on-year to VND337 billion.
The loss comes from a slumping gross profit, which was caused by a high cost of good sold and low net revenue. The gross profit plunged by 85 percent year-on-year to VND5.2 billion. 
Dry Cell and Storage Battery Co., Vietnam's largest battery maker, announces that its net revenue increased 32.2 percent to VND1.1 billion in the first half, an equivalent of 57 percent of this year's target.
Yet the company's net profit edged up 4.2 percent year-on-year to VND60 billion ($2.9 million).
The Ho Chi Minh City-based company, known as Pinaco, blames an increasing input cost for the slight growth.
Ceramic tile maker Vidoco suffered a 25.3 percent year-on-year decrease in the net profit.
Despite surging sales, a constant increasing input cost affected the firm's output capability, Vidoco says in a financial report.
Losses from financial investments
Plastic manufacturer Dong A says it lost more than VND2 billion in the second quarter despite a positive net sales of VND127.4 billion, a year-on-year increase of nearly 30 percent.
The HCMC-listed company the loss mainly came from a 204 percent increase in financial expenses, which was caused by high lending rate and a stronger dollar.
Property firm Long Giang Land copes with a similar issue as its financial expenses in the second quarter jumped up to VND25.7 billion from VND7 billion year-on-year, leaving the net profit plummeting 88 percent to VND3.13.
Seafood producer Viet Nhat also announced a negative financial report, with its after-tax profit reaching measly VND44 million compared to year-on-year amount of nearly VND3 billion.
The HCMC-based enterprise, also known as Visea, says it was hit hard by a 126 percent increase in financial expenses.