Many listed companies suffered heavy losses from their financial investments this year, which was a similar mistake that they made in 2008.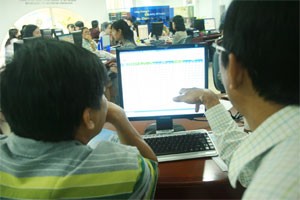 Two investors watch share prices updated on a computer screen at the Ho Chi Minh City Securities Corporation. Many listed firms suffered heavy losses from their financial investments this year (Photo:Minh Tri)
The financial investments' value of seafood producer Minh Phu plunged 4.4 percent to over VND196 billion (US$9.8 million) in 2010.
The firm, which lists on the Ho Chi Minh Stock Exchange with the code name of MPC, had to set aside more than VND12 billion as a provision for its investment worth VND200 billion in the SSI Vision Fund at the end of last year.
The firm also had to set aside nearly 80 percent of its stock investment portfolio as a provision.
Confectionery firm Kinh Do, cable and telecommunication material maker Sacom and rubber producer Dong Phu, which all list on the HCMC bourse with code names of KDC, SAM and DPR respectively, followed a similar pattern.
Sacom invested VND13.5 billion in unlisted property firm Momota and VND3 billion in traveling firm Du Lich Buu Dien, while Kinh Do pumped VND12.5 billion in Vien Thong Insurance. Rubber firm Dong Phu poured more than VND30 billion into the investment fund Viet Long.
Sacom is holding 2 million shares in the securities firm Wall Street. The share price of the Hanoi-based brokerage fell sharply to VND6,000 due to slumping stock market, leaving Sacom incurring heavy losses.
HCMC-listed freight forwarder Gemadept (GMD) said in a financial report that its investment portfolio amounted to nearly VND1 trillion ($50 million) in the last three months of last year.
GMD invested VND4.8 billion in the Prudential Balanced Fund, which lists on the HCMC exchange with code name of PRUBF1. Despite the 8 percent decrease of the closed-end fund so far this year, the freight forwarder has not sold it to cut loss.
GMD last year raised its chartered capital to VND1 trillion from VND475 billion through issues of 52.5 million additional shares on the market, which is equal to a daily average trading volume of both exchanges in HCMC and Hanoi.
The listed firms will likely to accept the losses as the investment portfolios' value remains low compared to their operation scale, a broker told Dau Tu Tai Chinh Newspaper.
Kinh Do holds 7 million shares in the Vietnam Export Import Bank, of which many shareholders worried the investment incurred losses as the confectionery firm bought the shares at high prices.
Analysts estimated that Kinh Do could make an amount of around VND100 billion ($5 million) from selling the shares in the HCMC-based bank.
However, many shareholders wondered why the firm has not sold the shares to reinvest in other businesses. "The company can earn a interest rate of tens of mls of dong from depositing the amount of VND100 billion into banks," said an investor in HCMC.