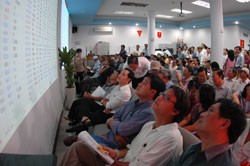 Investors follow Vn-Index at ACB Securities Company (Photo: VD)
Korea Investment Trust Management Co., a leading capital management company in South Korea, launched its first investment fund in Viet Nam on April 27.
The fund, called "KITMC Viet Nam Growth Fund", is the first foreign investment fund emanating from a foreign company in Viet Nam's capital market.
The company has mobilized capital from Korean investors since late February this year and expects to raise at least US$50 million for the fund.
The fund plans to invest in various markets including State-run and private companies, stocks and bonds.
South Korea's Ambassador to Viet Nam Kim Eui-ki said Korea Investment Trust Management Co. is a leading capital management in South Korea and also the biggest stocks company. It has 1.6 trillion won in capital (one dollar equal to about 945 won), 120 domestic branches and three companies in foreign countries.
The company plans to set up a representative office or a company in Viet Nam.

Related Link:
Korea Investment Trust Management Co.