Many giant foreign investors worldwide have been eager to spend huge amount to acquire stakes in local businesses, which are grappling with fund raising.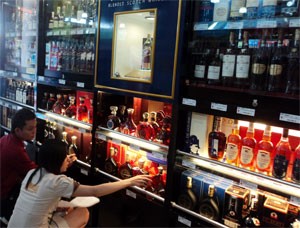 Imported strong alcoholic drinks are showcased at a HCMC-based supermarket. UK-based distiller Diageo acquired 23.6 percent stake in alcohol producer Halico (Photo:Minh Tri)
US-based private equity firm Kohlberg Kravis Roberts paid nearly US$160 million for 10 percent stake in local fish sauce maker Masan Consumer on April 13.
UK-based distiller Diageo bought 23.6 percent stake in alcohol producer Halico from investment fund VinaCapital at the price of around $11 per shares.
Daio Paper Corp. and Development Bank of Japan's BridgeHead fund last week decided to buy a 38 percent stake in Saigon Paper Corp, according to Thanh Nien Newspaper. The Japanese partners plan to raise their holding further to up to 50 percent.
Saigon Paper, which will have a capital of VND300 billion (US$14.5 million) when the shares are sold, is the largest private paper producer in Vietnam.
According to the Vietnam News Agency, the company holds 24 percent of the tissue-paper market and is one of the top five packaging firms in the country. The Japanese investor will provide technological, management and training support to the Vietnamese company.
"The foreign investment has flown slow since the macroeconomics was soured. However, we still witnessed their financial strength through the recent M&A (mergers and acquisitions) deals," said Dr. Pham Linh, general director of Hanoi-based brokerage VISecurities.
"The overseas investment flow is expected to be strong as the economy rallies. If local businesses and investment funds are not well-prepared, they will likely to be at a disadvantage in M&A deals."
Ho Ngoc Bach, senior official of Dong Nai Province-based commercial bank Dai A, notices local businesses usually focus too much on prices in M&A transactions, while foreign counterparts know how to prove themselves.
Many businesses said they were unwilling to sell large stakes to foreign companies as they were anxious the foreign partners might acquire their firms.
Vietnam Steel Corporation, the country's biggest steel manufacturer also known as VNSteel, has acquired 85 percent stakes in the zinc-coated steel sheet factory Lilama Hanoi, which is one of the subsidiaries of Vietnam Machinery Installation Corp., known as Lilama.
VPBank Securities Co., the broker of the deal, said it has succeeded in consulting the merger & acquisition deal worth VND579 billion, or $30 million, between Lilama Hanoi and VNSteel.
Ngo Cong Cuong, general director of Lilama Hanoi, told Saigon Times Newspaper that given the deal, Lilama Hanoi could retrieve capital to invest in its core business of construction while VNSteel can save time to invest in infrastructure as well as can take advantage of the company's existing distribution network in the north. 
Analysts said two companies had many advantages in carrying out the deal as both were state-owned corporations.
"The fragile sentiment of local businesses and complicated regulations are two main obstacles to M&A transactions in Vietnam. Businesses carrying out M&A deals have to impose two or three rules, which conflict with each others," said Dr. Alan Phan, chairman of investment fund Viasa.
"And the conflict costs the businesses time and money," he told Dau Tu Tai Chinh Newspaper.