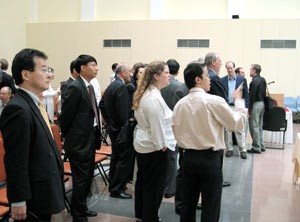 Fforeign investors are only allowed to trade based on the current room. (Photo: T.C)
After the Viet Nam Dragon Fund Limited (VDF) and the Grinling International Limited (Grinling) announced buying 2.5 million shares of the Refrigeration Electrical Engineering Corporation (ReeCorp, or REE) last weekend, foreign investors were informed by the Ho Chi Minh City Securities Trading Center (HSTC) that they are not allowed to conduct transactions that exceed the remaining volume.
According to the official HSTC website, only 120,895 REE shares then remained for foreign investors to buy from August 7 in "current room".
ReeCorp has a listing volume of 28,174,274 shares and 12,684,499 of them are currently owned by foreign investors, approaching the maximum stake allowed (49%).
The center's trading system is subject to the principle that foreign investors are only allowed to trade based on the current room. Immediately after buying orders and transactions are conducted the current room in the system will adjust correspondingly the same day. However, when selling, the system is updated on the day of payment, three days later.
The system will stop negotiation trading between two foreign investors if the trading volume exceeds the current room remained. Therefore, the transaction of REE shares through foreign investors, as in the announcement, will be conducted within the current room.
Related Articles:
Foreign Investment Funds Boost Demand of Stock Market
Viet Nam Dragon Fund Buys More of CII
REE to Invest US$ 250 Million in Power Plant
Securities Law Due To Be Passed