Foreign investors may be allowed to buy up to a 49-percent stake in enterprises traded on the over-the-counter (OTC) market, even in restricted sectors like banking and finance, once the OTC market comes officially under the control of the Ha Noi Securities Trading Center in the coming weeks, according to a draft regulation by the State Securities Commission and the Ministry of Finance.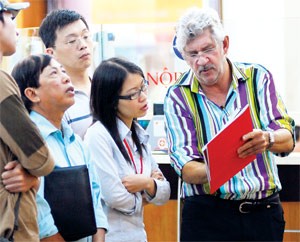 An American investor (1st, R) talks shares at Saigon Securities Co. (Photo: SGGP) 
Lifting the lid on ownership ratios would help attract foreign investors to the OTC market, suggested Nguyen Vu Quang Trung, deputy director of the Ha Noi Securities Trading Center.
If foreign traders were allowed to buy shares on the stock exchange with US dollars, as the State Securities Commission proposed recently, the OTC market would help draw away excessive flows of foreign currency towards the official stock market, Mr. Trung said.
Nguyen Son, head of the commission's Market Development Department, said that higher levels of foreign investment would also help boost liquidity and lower the risks of the OTC market for all investors.
The higher foreign ownership rate would help create more chances for domestic investors in the new market," Son said.
As of February 22, 883 enterprises with a total charter capital VND18 trillion (US$1.1 billion) have registered to sell shares on the OTC market, 21 of which were in the petroleum, energy and real estate sectors. Twenty-nine commercial banks with a total charter capital of VND25 trillion VND (US$1.6 billion) will also trade shares on the OTC market.
Under the draft regulations, both unlisted shares and bonds would be traded on the OTC market. The draft would recognize put-through and automatic trading.
Setting up a more closely managed OTC market at the Ha Noi Securities Trading Center was approved in December. Under the original plan, the supervised OTC market would commence by the end of this month.