Việt Nam's stock market had a second week of gains, buoyed by local investor optimism about a further increase, though continuous net selling by foreign investors has posed a threat to the market's growth.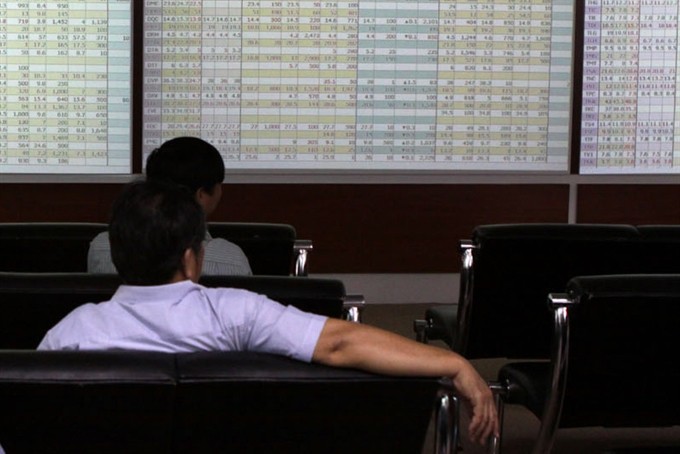 Investors follow transactions at Rong Viet stock trading floor in HCM City. Viet Nam's stock market had a second week of gains. (Photo: VNA/VNS)
The benchmark VN-Index on the HCM Stock Exchange gained a cumulative 1 percent last week, closing Friday's session at 662.3 points. It rose 4.5 percent in the previous week.
On the smaller exchange in Hà Nội, the HNX-Index closed the week marginally unchanged at 83.1 points.
Large-cap stocks maintained the market's driving force. Big gains among shares included in the top 30 stocks by market capitalisation, were seen by dairy firm Vinamilk (VNM), private equity Masan Group (MSN) and confectionery Kinh Đô Corp (KDC).
Masan, the seventh largest stock on the HCM Stock Exchange, climbed 11.6 percent for the week. Its shares reached the daily limit increase of 7 percent in the last two sessions, following information that the company registered to buy back 20 million shares and raised its 2016 profit forecast by 25 percent, after recording an impressive half-year profit of VND1.5 trillion (US$67 million), a year-on-year increase of 200 percent.
Also boosted by positive business results, shares of Kinh Đô Corp soared 26.7 percent last week. The company is expected to earn VND2 trillion from the sale of another 20-per-cent stake in Kinh Đo Bình Dương JSC, its arm which specialises in cakes and candies, to Mondelez International. In 2014, Kinh Đô sold 80 percent of its shares to Mondelez for $370 million.
Also, Kinh Đô's profits are forecast to reach VND2 trillion by the end of this year.
However, except for some large-cap stocks, overall market conditions were negative, as the number of losing shares often outnumbered those posting gains. Meanwhile, increased selling by foreign investors has put heavy pressure on the development of the market.
Foreigners were also responsible for a net selling value of VND1.1 trillion in the two markets last week. This is the second week they were net sellers, raising the total net selling value to nearly VND1.3 trillion. Their selling focused on blue chips, such as Vinamilk, VinGroup and Masan Group.
"A chain of two-week net selling by foreign investors is likely to be a risky factor which could endanger the market's rise, especially when the market faces a lack of support information this month," analysts at Vietcombank Securities Co wrote in a report.
Nguyễn Hữu Bình, head of analysis at Investment Vietnam Securities Co, suggested that investors focus on individual stocks, instead of the index, as the rise or fall of the index is being heavily influenced by movements of some large stocks.
Binh said, in the first half of 2016 many stocks recorded very high prices, while at the other end of the spectrum, many shares had set new bottom price levels. Also, macroeconomic developments and external factors had different impacts on different sectors and industries.
"Money is flowing in those shares promising growth potential in the medium and long term," Binh was quoted as saying on the financial website tinnhanhchungkhoan.vn.
Further, liquidity rose slightly on the HCM City's market. The daily trading volume  reached 129 million shares, worth nearly VND2.9 trillion, and up 8.7 percent in volume and 31.8 percent in value, compared with the previous week's figures.
Similar figures were 39 million shares, with an average value of VNĐ496 billion in the Hà Nội market, down 2.1 percent in volume and 3.1 percent in value from the previous week's levels.