Fortune telling seems to be a very thriving and lucrative business each year, ahead of Tet Lunar New Year when people rush to have horoscopes read, and books, leaflets and flyers on Feng Shui, astrology and tarot reading can be found in many markets, pagodas and pavements of the city.
People seek advice from fortune tellers on personal and professional lives and for the future. This social practice is repeated year after year and no measure has proved effective to reduce it so far.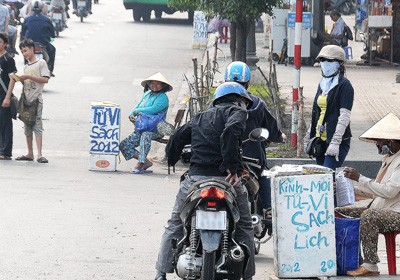 People buying horoscopes read, and books, leaflets in front of Vinh Nghiem pagoda
In addition to next year's calendars that mark the lucky and unlucky days and hours, there are also books and discs with superstitious contents being sold in flagrant fashion and doing rather brisk business. Some publications sell in the guise of "Research in traditional oriental culture".
In a small alleyway in Au Co Street in District 11 on one January morning, many people arrived to have their fortune told by clairvoyant H. at her house. Her huge room was packed with tens of people, amongst whom she sat, smoking while shuffling cards with her hands, burning incense now and then, playing with her pack of cards, and seeming to perform various tricks.
The people present there said they frequent H's home often, and seem to hold her in high esteem, having great confidence in her abilities to predict accurately. Her fees were also reasonable to them.
H is famous for her unique ability to contact dead people's spirits, which she accompanied by imitating voices of children, teenagers, and elderly.
M, a man on Phan Anh Street in Tan Phu District, only tells the future of customers using telepathy and meets a maximum 3 customers a day.
Th., a fortuneteller on Ba Thang Hai Street in District 10, who owns a multi storey house, offers predictions to men and women. She often attributes bad luck of people to fate, sees flaws on a person's face then advises them to go to her beauty salon to correct the flaws. In the hope that cosmetic surgery will restore their fortunes, people take her advice.
Another fortuneteller on Dinh Bo Linh Street in Binh Thanh District, who had undergone a sex change surgery to become a female from male, said that when Tet approaches, people flock to her house for fortune telling.
As Tet approaches, the numbers of people gravitating towards her house grow greater, resulting in lines of parked motorbikes reaching as far as the gate at the building's edge. There were already over 30 guests that morning alone, and every Sunday the place invariably overflows with visitors.
Many fortunetellers earn a lot of money by exploiting superstitious people. Acting on the advice of fortunetellers, people not only lose money but pay a high price for wrong guidance. Some have lost their jobs, some said goodbye to their loved one, and some had to sell their houses at low prices, thinking the houses are haunted…
In addition to personal homes being converted into fortunetelling haunts, the superstitious can also find help at pagoda entrances.
It is clear that dubious methods adopted by these fortune-tellers are part of their skill and they are happy to make money at the expense of innocent and credulous people. They appear to be retrieving souls of the deceased, allowing them to take up temporary residence in a body, then request living relatives for expensive objects like villas and high quality cars.
Unfortunately, these practices continue to be plaguing Vietnamese society unchecked.