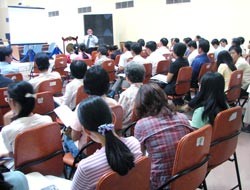 More investors learn about HASTC's trading at a seminar in Ho Chi Minh. (Photo: T.C)
Subjecting to Decision No 323/QĐ-UBCK issued by the State Securities Commission (SSC), from June 1, Ha Noi Securities Trading Center (HASTC) will hold trading sessions on every working day, from Monday to Friday. The trading time stays unchanged, from 9 to 11 AM.
Currently, HASTC only opens three trading sessions per week, in Monday, Wednesday and Friday, which cannot keep up with the ever-increasing trading need of investors.
According to HASTC's managers, as the trading demand of investors increases rapidly, the current system of one session every other day is no longer efficient. Statistics shows that, in the first five months of 2006, the total average trading volume of the Ha Noi bourse reached VND 10 billion/session, an increase of 160% over 2005.
Besides, with the listing of Pha Lai Thermal Power Joint-stock Company, the total listing value of stocks on the Ha Noi bourse upped 150% to VND 5000 billion. With the size of the market increasing dramatically, HASTC hopes that the expansion of trading sessions will meet the growth of the bourse, increase its listed stocks' liquidity as well as attract investor's attention, similarly to that of Ho Chi Minh City bourse.
Related Articles:
EVN to Sell State-Own Shares to Strategic Investors
Stock Exchanges To Increase Trading Time
Attractiveness from The Ha Noi Bourse