Information about listed investment funds' certificate purchases is triggering rumors about acquisitions on the stock market.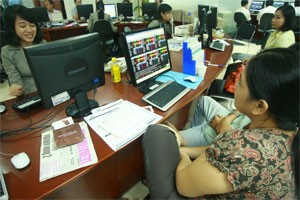 Investors watch share prices updated on a computer screen at a HCMC-based brokerage (Photo: Minh Tri)
The investment company Ha Viet registered to buy 100,000 fund certificates of Manulife Progressive Fund (PF1) in order to raise its holding in the Ho Chi Minh City-listed fund.
The purchase is planned to begin in one month starting from Aug 12th, according to a statement on the HCMC stock exchange's website.
"Ha Viet's general director Tong Van Dung is a member of PF1's representative board," a broker told Dau Tu Tai Chinh Newspaper, adding that PF1 has the highest net asset value.
"Therefore, the investment firm's move triggers investors' question about whether Ha Viet wants to acquire PF1or it just try to boost the fund's market price."
Ho Chi Minh City Securities Company earlier has announced to buy more than 1 million fund certificates of the Vietnam Securities Investment Fund (VF1) to raise its holding to 9.7 percent from 8.7 percent.
VF1, meanwhile, is managed by Vietfund Management, of which another investment fund Dragon Capital is one of its big shareholders.
Dragon Capital is also one of brokerage Ho Chi Minh City's big shareholders.
Analysts notice that information about fund certificate purchases make investment funds' holding become attractive to investors.
Insurer Prudential Vietnam early this year bought nearly 15.85 million fund certificates of Prudential Balanced Fund (BF1) to boost its holding to 34 percent, an equivalent of 16.85 million fund certificates.
Financial experts say the insurer raised its holding in an effort to prevent the investment fund from being acquired.
"Closing an investment fund requires approvals by 75 percent of share holders," says a director of a HCMC-based brokerage, who asks to be unnamed.
"There is a rumor that an investor is trying to acquire BF1. Thus, insurer Prudential Vietnam's purchase made people wonder whether it raised the holding rate to prevent an acquisition."
He also notices many investment funds are being targeted by investors, who are attracted by the funds' high discount rate.