Many listed companies registered with the stock market watchdog to buy back their shares in an effort to curb the plunge in share price. However, financial experts said the rescue plans would likely to be inefficient.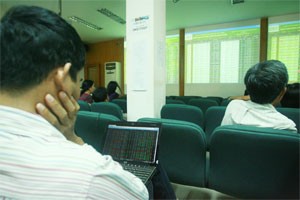 Experts say share buybacks make less impact to the stock market than cash dividend (Photo:Minh Tri)
Statistics show that 41 listed firms announced they had registered to the Ho Chi Minh Stock Exchange to buy back shares worth VND565 billion (US$28.3 million).
Most of the buybacks were expected to be carried out in three months starting from early this month.
Among listed companies that were set to buy back large amount of shares are construction firm Petroland (8 million shares), electric appliance maker REE Tech (5 million shares), confectionery company Kinh Do (5 million shares), sugarcane producer Bourbon Tay Ninh (4 million shares) and seafood expoter Ben Tre (1.36 million shares).
Financial experts, however, warned that the buybacks would hardly to success as the amount of buyback shares were too big.
Earlier many listed companies announced they failed to buy back shares even in small amounts due to similar reason, such as "the market remains in dull time" or "the buying orders have not been matched".
Property firm Dream House registered to buy back 1.8 million shares, but eventually got half of the amount only. Textile manufacturer Garmex Saigon bought back 45,000 out of 260,000 shares they had registered.
"Businesses use idle funds to buy back shares only when their business is booming. The move is to show their shareholders that they strongly believe in the positive growth rate of their own company," said a broker from a HCMC-based securities firm.
Businesses would likely to suffer a shortage of capitals for their operation if they bought back shares amid the credit squeeze, he warned.
"Local listed firms tend to rush to buy back shares every time when the market is bearish. However, the buybacks make less impact to the market than cash dividend," the Vietnam Association of Financial Investors said in a report.
"The amount of money, which is used for buybacks, will prove to be more efficient if they are used as dividend payment. Raising dividend rate help improve shareholders' income and create more chances for them to reinvest in their firm's shares."
The shares of some companies listed on stock exchanges in HCMC and Hanoi are being traded at VND2,000 and VND3,000 each. Nearly 50 percent of the 668 shares listed on the bourses are changing hands at below their par value of VND10,000.
With high inflation and restrictions on lending to non-manufacturing sectors, the pall of gloom that hangs heavy above Vietnam's stock markets is unlikely to be dispelled in the short-term, analysts say.
Vietnam's consumer prices rose 19.78 percent in May from a year earlier, the most since December 2008, according to the General Statistics Office. Experts say inflation may accelerate to more than 20 percent this year.
Vietnam's benchmark stock index has tumbled 14 percent from the 2011 high on February 9. The HNX-Index of the smaller bourse in Hanoi fell 35.2 percent this year.