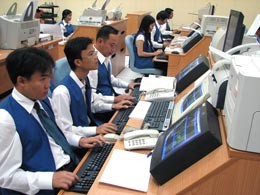 Investors on OTC market will also be deducted capital gains tax

Securities companies will deduct capital gains tax of 0.1 percent on each transaction it effects for clients, forward the amount to the tax office, and file tax returns on their behalf, according to an instruction issued by the Ministry of Finance.
The document also explains how to deduct the tax for investors on the OTC market. In case of unlisted stocks, the issuing companies have the responsibility of deducting the tax based on contract prices.
If the contract prices are lower than the market value, the tax will be based on the latest prices in the company's books.
Capital gains tax was introduced for the first time in Vietnam on Jan 2.