After being chosen to be the first place to develop the stock market in Vietnam in 2000 Ho Chi Minh City has always affirmed its position and outstanding importance, accounting for over 90 percent of the country's share value, said HCMC Party Committee secretary Dinh La Thang on February 6.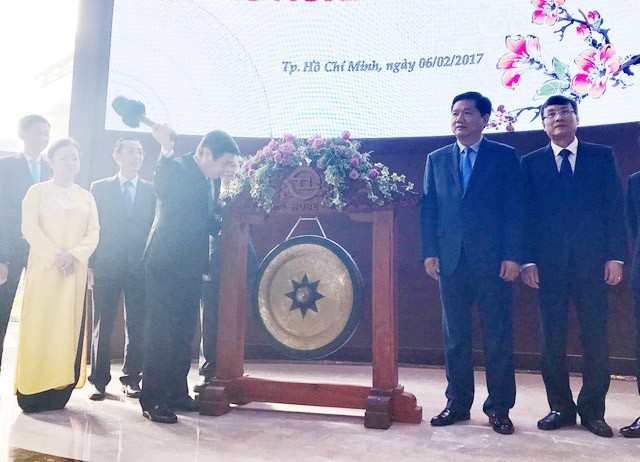 HCMC People's Committee chairman Nguyen Thanh Phong beating the gong at Hose on February 6 (Photo: SGGP)
He made the statement at a gong beating ceremony on the debut of the new stock trading year at the HCMC Stock Exchange (Hose). The event was also attended by chairman of the city People's Committee Nguyen Thanh Phong.
 
According to Mr. Thang, Vietnam's stock market has created turning points to develop quickly and steadily for the past years. Capitalization has reached 36.9 percent Gross Domestic Product, effectively assisting banking credit and practically contributing to the socioeconomic development of HCMC and the country.
 
Last year, the city market made steady development steps with capitalization increasing nearly 30 percent and the market's liquidity rising 24 percent over 2015.
 
Mr. Thang hoped Hose and other members in the stock market to keep siding with the city to move on steadily and sustainably, developing the city into the leading financial hub of the country and the Southeast Asian region. He assured that the city will create the best conditions for Hose and listed companies to operate effectively and more strongly develop.
 
Mr. Vu Bang, chairman of the State Securities Commission of Vietnam, forecast that the stock market will see many development opportunities in 2017 because of positive factors.
Specifically, the Government has applied a slew of measures to solve difficulties for businesses, more state own enterprises will carry out equitization in the upcoming time creating a new investment wave and the flexibility of monetary policies will facilitate the market's development.
 
Aside from that, the merger of two stock exchanges into the third bourse VNX All-share is expected to make the stock market noisier.
 
Mr. Le Hai Tra, deputy director general in charge of Hose, called on market members to advocate activities towards sustainably developed stock market by providing transparent information about finance and non finance. Listed firms should build their own development policies and apply specific management tools and measurements to estimate the effectiveness of investments.
He prompted them to invest in green and natural resource saving projects using renewable energy and pay more attention to workers and social contribution activities.