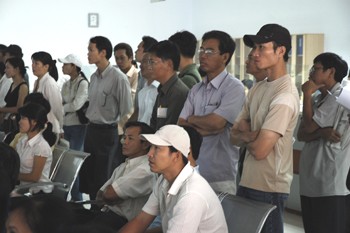 Investors dump shares heavily to bail out of the market. (Photo: Thieu Gia)
The Ho Chi Minh Stock Exchange edged down after a mixed trading day yesterday.
The VN-Index of 167 firms and four closed-end funds rose marginally in the session as upbeat investors bought on news of the central bank's rate cut and the Government's $1 billion stimulus package.
The State Bank of Vietnam slashed interest rates for the fourth time in six weeks to sustain the economy as the global financial crisis undermines growth. The key rate will fall to 10 percent from 11 percent, effective December 5.
Prime Minister Nguyen Tan Dung has also asked the Ministry of Finance to allocate $1 billion to prevent an economic slowdown, Vietnam News reported.
But the index gave up its gains in the second session as investors reconciled to a bearish market in the next few days.
VN-Index finally closed 1.23 points, or 0.4 percent, down at 306.22. It has dropped 67 percent this year. Trading volumes remained fairly low, with just 8.9 million shares changing hands. Of the index members, 47 advanced and 92 declined.
"The market has no clear trend at the moment. The rate cut and the government's $1 billion stimulus package are definitely good news for the economy, but it will take some time for it to have any concrete effect on the economy and the market," Bloomberg quoted Pham Thanh Thai Linh, an analyst at Hanoi-based Bao Viet Securities Joint-Stock Co., as saying.
"The rate cut will be good for borrowers, but the question is whether companies are willing to borrow in this difficult time when Vietnam's major export markets like the US and Japan are in a recession."
Linh added it would be better to wait for a couple of months before buying shares of these companies because it is premature to talk about a recovery in the market in the short term.
Cuu Long Pharmaceutical Joint Stock Corp. (DCL) lost VND300, or 1.09 percent, to close at VND27,100. The drug maker said on the exchange's website that Le Trung Hieu bought 430,000 shares, equivalent to a 5.3-percent stake, last month.
Lam Dong Mineral and Building Material Joint Stock Co. (LBM) fell by VND100, or 0.64 percent, to close at VND15,500. One of its directors, Nguyen Danh Cuong, sold 2,000 shares to cut his holdings from 16,000 shares to 14,000.
The smaller stock market in Hanoi saw a minor rally, with the HaSTC-Index going up by 0.68 point, or 0.66 percent, to end the day at 104.16.