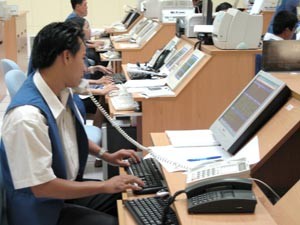 HSTC healthy but the center need to restructuring and upgrading to level ground with other global bourses. (Photo: T.C)
Early September, on celebration of Viet Nam's National Day, the Economic and Budget Committee of the Ho Chi Minh City People's Council paid a visit to the Ho Chi Minh City Securities Trading Center (HSTC), the first stock exchange in Viet Nam, opened more than six years ago.
The exchange has grown a lot since its birth, but the committee says it still has a long way to go before it reaches it's potential to be on level ground with other global bourses.
In the first 8 months of the year, the center listed 18 new joint-stock companies, increasing the total number of listed enterprises to 48, an increase of 1.5 times more than during the same time period last year and 2 times volume of shares listed year-on-year.
The exchange's market capitalization exceeded VND47,000 billion, accounting for over 5% of 2006 projected GDP.
The average trading volume per session in early 2006 reached VND270 billion, more than triple that of 2005.
Eighty-two share auctions were held, bringing in nearly VND5 trillion to the government.
Even with these impressive numbers, the exchange still has room for improvement and representatives from the Ho Chi Minh City People's Council have suggested that the center restructure the market and upgrade the center so that it is more in line with true international stock market exchanges.
Related Articles:
Stocks Rise Sharply on Eve of National Holiday
PTSC Share Auction Attracts Record Number of Investors
Sagimexco To List On Stock Exchange