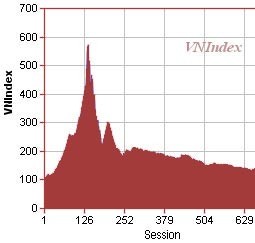 Vietnamese stocks fell in a crisis between 2001 and 2003 (By: T.C)
Vietnamese stocks have been closing higher day after day despite recent press warnings of their heated growth. There are good reasons for concerns of experts and the press once the lesson of 2001 is still there: within only 31 trading sessions, VN-Index dropped 46.1% to as low as 307.76 points on July 9, 2001from its peak of 571.04 points early on June 25, leading to a two-year downturn of the market to the bottom 130.9 points on October 24, 2003.
Problems not yet solved
Analyses have shown many differences between the current market and that of 2001: richer stocks listed; more experienced investors; no more administrative intervention by the State, etc. However, the core problems that led to the stock failure in 2001 has not yet been radically solved.
First, demand still exceeds supply despite the wider range of stocks. In fact, the number of trading accounts has risen 12 times as many while the number of listed stocks has increased only 7.3 times since the end of 2001.
Moreover, many companies which are expected to list have not yet made their debuts on the stock exchange, including some respectable banks and other promising enterprises.
Since stock auction began in February 2005, Ho Chi Minh City Securities Trading Center (VSE) has organized IPOs for 55 enterprises. However, only three of these are currently listed - Vinamilk, Taya, and Kinh Do. Many "hot" stocks have not yet listed including Binh Minh Plastic, Tan Tien Plastic, Vitaco, Comeco, and Imexpharm...
Second, investors, though more experienced through the shock in 2001, are still influenced by bandwagon effects and short-term mood. Of over 36,000 trading accounts, only 1% are owned by institutional investors, yet making up 60% of the total trading volume. This rate is, however, far lower than those in developed markets and can't yet help stabilize heated or frozen stocks.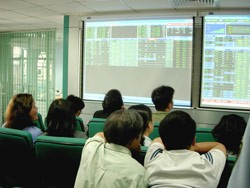 Individual investors pour money in stocks. (Photo:T.C)
Furthermore, recent investment of real money by individual investors has accounted for only a small part of the total investment. The much larger remaining was made through securities mortgage. This can be very dangerous. For one thing, a large amount of virtual money in investment will shoot up demands in stocks and thus widen the gap between demand and supply. So if stocks go down, a domino effect will result. Some securities companies have reduced this kind of loans due to fear of this effect.
So, on the whole, in order to cool down stocks, there is only one way: to push supply as far up as possible. This is also an important policy of the government and the State Securities Committee (SSC). Nevertheless, their efforts have not been turned into expected results. Enterprises listed in Decision No 528 (officially nominated to be listed) showed every reason to delay the listing process.
Optimistic signs
Lately, Viet Nam Association of Financial Investors (VAFI) has proposed to the government a list of "quality goods" for stocks, reduce the state's share holding in equitized power plants...
Meanwhile, the SSC is coordinating with the Corporate Finance Department, MOF, in reviewing the list of enterprises to be listed this year and next.
Moreover, Electricity of Viet Nam (EVN) has recently demanded the representative of the State's shares in Vinh Son - Song Hinh Hydro-power Joint-stock Company and Khanh Hoa Power Joint-stock Company to pressure the listing of these companies.
Those are the optimistic signs of expanding the number of listed companies in 2006.
Anyway, whether these efforts are effective or not will be confirmed only in a few months' time, especially at the conclusion of the shareholder-conference season and companies' yearly balancing.
Related Articles:
More Companies to Go Public in 2006
Creating "quality goods" for the stock market
What Behind Stock Value Increases
Pharmaceutical Shares Are Welcome
First Foreign Share in Vietnamese Stock Market
Vinamilk to Auction VND1,59 trillion in Stocks