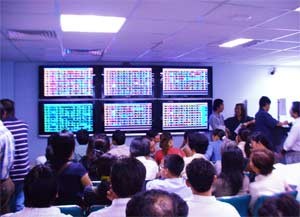 The continuous order matching scheme is expected to increase the number of transaction at the HSTC. (Photo:TK)
The Ho Chi Minh City Securities Trading Centre (HSTC) announced that the continuous order matching scheme is ready to roll and officially launched today.
The southern bourse and its members have been testing real-time matching every afternoon since May 18, paving the way for the official application of the scheme. During the trial basis, many investors were invited to come and watch from the beginning but few took up the offer.
As of July 30, the new transaction scheme comes between traditional periodic order matching transactions and transactions in the form of negotiated orders.
Every trading session will begin at 8:30 am and finish at 10:30 am. The time from 8:30 am to 9 am will be for negotiated orders, defining the opening prices. After that, 9-10 am will be set for real-time order matching transactions. Investors will have 30 minutes for periodic order matching to define the closing prices, which will be the references for the next day's transactions.
Previously, the non-stop order matching scheme was delayed three times because of slow preparation. It was initially planned to be applied on April 1, but then was delayed to May 7. When the new scheme ran at the test transaction, only 12 out of 45 securities companies could show their readiness for the new scheme, and thus the implementation was delayed once more.