Tan Tao Industrial Park Joint-Stock Company, or Itaco, (ITA) was the most actively traded stock and closed limit-up after attracting buy orders for hundreds of thousands of shares today.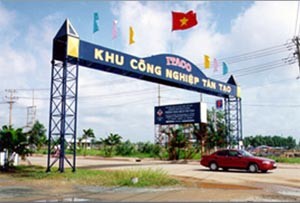 ITA stocks of Tan Tao Industrial Park has attracted more investors.
With 45 million shares, or VND450 billion (US$28,1 million) in par value, listed for trading, the first industrial park developer to join the Ho Chi Minh City Securities Trading Center is already the fourth biggest stock by market capitalization.
Itaco operates Tan Tao, the first industrial park to be built in Viet Nam. The company has invested US$100 million in the zone and expanded it to 385 hectares.
By the middle of June, Tan Tao had gained 227 Vietnamese and foreign tenants investing VND5,269 billion (US$329 million) and US$122 million.
At that stage 99 per cent of the original section and 62 per cent of the extension had been leased out.
Itaco reported a profit of nearly VND60 billion for the first three quarters of 2006, but the board is anticipating a final figure for the year of VND150 billion once the revenues from its Taserco subsidiary (VND120 billion in charter capital) and Tan Duc Industrial Park are taken into account.
ITA ended up 4.63% for the day.
Related Articles:
Stock Market Keeps Climbing as Foreign Money Sloshes in
Economic Pressure with Trillions of VND at Stake
First Industrial Park Operator Gets Listing License