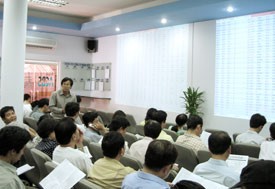 Vietnamese stock market attracts more and more investors (Photo: T.C)
The director of Ho Chi Minh City Infrastructure Investment Joint-stock Company, Mr. Le Vu Hoang, said the company will be officially listed on the Ho Chi Minh City Securities Trading Center (HSTC) on May 18.
With the chartered capital of VND 300 billion, CII is the third biggest company in capital size on the listed market, behind the Viet Nam Diary Products Joint Stock Company – Vinamilk (VNM), which has VND 1590 billion in capital and the General Forwarding & Agency Corporation – Gemadept (GMD) with VND 347 billion in capital.
Prior to the company's listing day, CII's stock is currently being traded four times greater than its par value VND 10,000 per share. Once listed, it can easily reach the "top ten" biggest companies on Viet Nam's stock market.
The listing of CII will propel the supply size of the market which is currently heated by the enormous demand.
Beside the announcement of going public, the company has also introduced the plan to issue 131,500 convertibles worth of VND 131.5 billion. Each has the par value of VND 1 million.
75,000 of them will reserve for existing shareholders. 11,500 convertibles will be sold to employees and the remaining will be offered to the public.
These convertibles are going to have the annual interest of 8%. The term for conversion is 3 years. Each convertible equals 76 shares at the time of conversion.
Related Articles:
Creating "quality goods" for the stock market
The 36th stock for Viet Nam Bourse