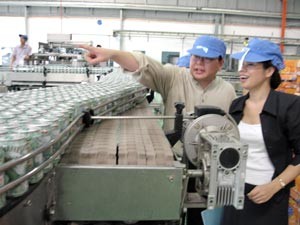 Mr. Calvin Yau, Deputy General Director of Interfood (L) controls a production line (Photo: T.C)
International Food Joint-stock Company (Interfood) prepares to offer 5.76 million of its shares, equaling VND 57.6 billion. The offered stocks will be listed on Ho Chi Minh Securities Trading Center (HSTC).
Interfood is specialized in confection, beverage, packaged foods under such brands as Wonderfarm, Tops, and Okayo. It is one of the first 6 FDI to transform into joint-stock companies.
Before, Interfood is a 100% Malaysian capital invested company.
To meet the listing conditions, Interfood planned to issue an additional 3.65 million shares, raising its chartered capital to VND 242.84 billion, or US$ 15.3 million.
The company will offer to the public 1,703,595 shares with the starting price of VND 33,000 per share. 730,110 shares will be sold to strategic partners and the remaining will be distribute to employees.
As the stocks are getting hot, such new offering as Interfood will meet the market expectation. The Vietnamese stock market attracts not only investors but also listed companies, especially those having foreign investments.
Related Links:
Interfood Company