In the recent auction at Ho Chi Minh City Securities Trading Center (HSTC), 1,703,595 shares of International Food Joint-stock Company (Interfood) have been sold out at the total value of VND 74.91 billion.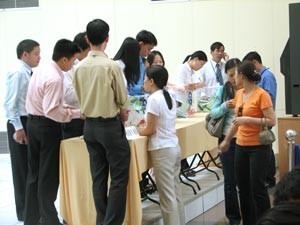 Many investors had waver in choosing their bidding price. (Photo: T.C)
Not long before the auction, the bearish trend of the listed market caused some analysts to concern that the price could not be high in this auction. However, the news that the buying demand was 3 times higher than the total shares offered made the atmosphere of the auction much more lively.
Many investors had trouble in choosing their bidding price and the average winning bid reached VND 43,974/share, 33.25% greater than the starting price.
This can be considered a success for Interfood in particular and for foreign direct investment (FDI) enterprises in general. The attention investors paid to these enterprises proved that the equitization of these enterprises proves effective.
Interfood might probably be the second FDI enterprise to list on the HCMC bourse in this July after Taya Electric Wire and Cable Joint Stock Company (Taya); while the time of listing on the Ha Noi bourse for Tung Kuang Industrial Joint-stock Company – another FDI enterprise – can be counted down in days.
Moreover, many other FDI enterprises, which have been completed their equitization process or gone through IPO, will soon be listed, including Royal International Corporation (VND 330 billion of chartered capital), Full Power Joint-stock Company (VND 100 billion), Taycera Joint-stock Company (VND 250 billion) and Chang Yih Enamel Joint-stock Company (VND 90.48 billion).
Statistics about the Interfood share auction:
+ Total shares offered: 1,703,595 shares
+ Par value: VND 10,000 per share
+ Starting price: VND 33,000 per share
+ Total shares subscribed: 5,216,200 shares
+ Highest matched price: VND 71,300/share
+ Lowest matched price: VND 40,500/share
+ Average matched price: VND 43,974/share
+ Investors with winning bid: 203 include 15 institutions and 188 individuals
+ Shares won by foreign investors: 190,689 shares (in 511,000 shares allowed)
+ Total value of share sale: VND 74,913,557,500
Related Articles:

Tung Kuang – The First FDI Company to List on Ha Noi Bourse
VN-Index Not Take Off
Sacombank Receives Listing License
Petrolimex Gas' IPO Sees Record Of Participants
Interfood - Another FDI Company to Go Public