Although fuel prices climbed for the third consecutive time in August, stocks on the Ho Chi Minh City and Hanoi Stock Exchange showed an impressive performance on August 29 with more than 400 shares advancing as sentiment improved when share price fell to low levels.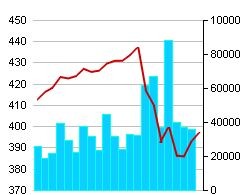 Movement of VN-Index in August. (Photo: hsx.vn)
After plunging for two trading sessions at the beginning of this week, markets rebounded with Vietnam's benchmark VN-Index recovering 1.89 percent to close at 363.06 points, and HNX-Index jumping 3.6 percent to finish at 61.88 points, of which more than 200 shares increased at the set daily limit. More than 67 million shares were traded, worth VND810 billion. Most banking shares, except EIB and STB, climbed strongly while securities shares became the main factor that helped markets to boom robustly.
In the trading session on August 29, liquidity improved heavily with many shares being purchased at ceiling prices whereas both sell-side and buy-side showed cautiousness in two previous trading sessions. Within the first 15 minutes of the afternoon trading session, matching-order volume rose by 50 percent compared to that of the morning trading session. Most blue-chip and penny-chip stocks escalated sharply.
Vietnam's stock markets continuously lost ground with nearly VND65 trillion vaporizing after Nguyen Duc Kien, deputy chairman of Vietnam Professional Football Company (VPF), co-founder of Asia Commercial Joint Stock Bank (ACB), and shareholder in some of the largest banks in Vietnam, was arrested for insider trading. Investors dumped shares heavily at the lowest price, sending Vietnam stock markets' valuation to the lowest level in the past six months compared to other stock markets in the South East Asia region.
However, market recovery showed a change in investors' sentiment as they no longer fled from the market. Buy-side accepted to take risks with buying power remaining strong while sell-side tried their best to keep prices at high levels although this was a good opportunity to cut loss. Meanwhile, some investors concerned about bull-trap and remained doubtful of the market prospect.
Nguyen Dang Quang, chairman of Masan Group (MSN), and Tram Be, vice chairman of Saigon Thuong Tin Commercial Joint Stock Bank (STB), continually appeared in public, crushing rumors that they were arrested, enhancing investor confidence. On online forums, some investors said that their appearance helped stock markets to make a-U turn.
According to Pham Tien Dung, analyst of Bao Viet Securities Joint Stock Company (BVS), bearish sentiment took the upper hand as rumor spread. As this case was verified, it will make investors to be more careful when evaluating and determining the accuracy of rumors. After rumors vanish, fundamental factors will return to lead the market.
At this moment, negative news, such as fuel price hike, does not seem to affect stock markets. As stocks sank to seven-month low amid news of interest rate likely decreasing to 8 percent per annum which meant decline in lending interest rate, most investors expected that markets will return to an upward trend soon.