Vietnamese and foreign investors have great expectations for Viet Nam's stock market, after the country's successful APEC conference and membership in the WTO led to major growth in the securities market, said the State Securities Commission (SCC) on Monday.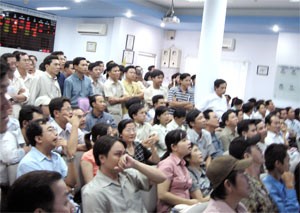 People recently have so high hopes for securities market (Photo: T.C.)
The observation was made after the volume and value of stock transactions at securities trading centers in both Ho Chi Minh City and Ha Noi increased dramatically last month.
 
On the last day of trading in 2006, the Viet Nam-Index at the HCMC Trading Center finished up at 752 points. One month later, it had skyrocketed to 1041, translating into a 1.5 percent increase per trading day in January.
 
Continuous increases in stock prices were seen at joint-stock companies such as Binh Minh Plastic Co. (BMP), Kinh Do Co. (KDC), the Corporation for Financing and Promoting Technology (FPT) and Song Da Construction and Infrastructure Co.
 
More than half of the 107 companies listed on the HCMC market had normal P/E ratios of less than 20.
Values around 20 are generally considered to mean that a company is doing well, stock profits will likely increase rapidly and investor confidence is soaring.
 
Some companies, however, achieved abnormally high values which raised the ratio of the overall market to 43 (compare with average values for developed countries of between 8 and 15).
 
According to Industry analysts, high P/E values are not always desirable since they are often associated with a frenzied form of investment psychology, artificially high stock prices and market crises.
 
Among the companies that demonstrated high P/E values were the PetroVietnam Drilling and Well Service Co (PVD) with a P/E of 328, the Waterway Petrol Transportation Co. (VIP) with 112 and the Hoa Binh Construction and Real Estate Co. (HBC) with 162.