Both foreign and domestic investors have returned to Vietnamese stock market this year as the economy has showed recovery signs after a downturn beginning 2007, according to Saigon Securities Incorporation.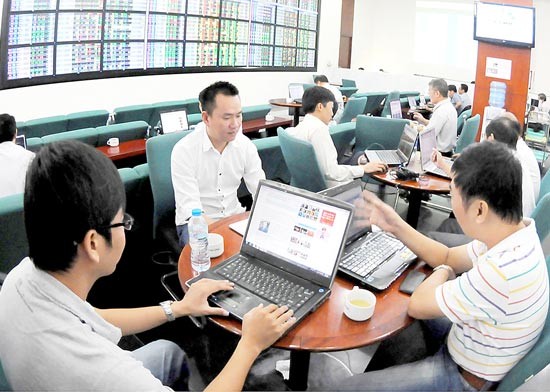 Investors at Maybank Kim Eng Securities Company (Photo: SGGP)
Since early this year, a large amount of foreign currencies have been invested in the stock market.
Over 400 foreign investors attended the Gateway to Vietnam 2014 conference in September, a platform for domestic and international financial investors as well as local enterprises to look for new cooperation opportunities.
Mr. Francis G.Rodilosso, representative of Van Eck--the largest exchange traded fund in the Vietnam stock market, said that Vietnam stock market is not large compared to other nations in the Asian region. Its growth rate and liquidity is not as high as Thailand and Singapore markets'.
However, the Vietnamese market is attractive partly thanks to political and Vietnamese dong stability. Besides, inflation rate has been curbed below 5 percent and investment environment has become more dynamic, he added.
Bloomberg statistics shows that foreign investment funds purchased a net volume of over US$277 million in the Vietnam stock market in the first eight months this year, up 5.3 percent over last year.
They have created a net purchase of VND1.3 trillion for the last couples of weeks this year.
According to local stock companies, foreign sector has concentrated on purchase of stocks in real estate, oil and gas fields and blue-chips.
They might broaden purchase of shares from small and medium companies with good liquidity, said Rong Viet Securities Company.

Positives signs in the stock market have not only lured foreign but also domestic investors as there are not many choices for residents to find positive investment channels.
Profit from savings has much fallen. Savings interest rates have been very low especially in short terms, said Mr. Yun Hang, director of the emerging market division of the Korea Investment and Securities.
Meantime, VN-Index was up 20 percent last year. This year, it has increased 25 and is forecast to hit 650 points in the rest months. Investors should buy stocks for higher profit than savings, he said.
Mr. Nguyen Hoang Minh, deputy director of the State Bank of Vietnam in Ho Chi Minh City, said that reduction in the savings interest rate has positively affected to the stock market.
Leisure cash has been invested in other channels including stocks instead of savings as earlier, especially after banks continuously cut deposit interest rates, he noted.