The Ho Chi Minh Stock Exchange lost heavy ground yesterday as the VN-Index, the gauge of 158 companies on the Ho Chi Minh City Stock Exchange, fell 20.81 points, or 4.4 percent, to 455.95.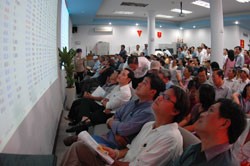 Investors watch the electronic board of stock prices at ACB Securities Company.
Heavy selling began as soon as the market opened, but few investors were willing to buy, causing the trading volume to fall to 17 million shares, half of yesterday's figure. Of the 158 members, a mere five recorded gains, 144 dipped, and nine remained unchanged.
Shares of Sao Ta Foods Joint-Stock Co. (FMC) fell VND800, or the daily maximum of 5 percent, to close at VND15,200. The Vietnam Emerging Equities Fund reduced its holdings in the company to 350,000 shares, or 4.43 percent, from 5.04 percent, by selling 48,000 shares on September 10, according to a statement from Sao Ta filed on the exchange's Web site.
Steel maker Hoa Phat Group (HPG) slid VND2,500, or 4.2 percent, to close at VND57,000. Vu Thanh Thuy, a member of the supervisory board, sold 49,500 shares to reduce her holding in the company to 27,500 shares, the Ho Chi Minh Stock Exchange said in its bulletin today.
Vietnam Petroleum Transport Co. (VIP) dropped VND900, or 4.9 percent, to finish at VND17,400. Amersham Industries Ltd. reduced its holding in the company to 4.32 percent from 10.88 percent by selling more than 3.9 million shares, according to a statement on the stock exchange's bulletin today.
At Hanoi Securities Trading Center, the HaSTC-Index of 149 companies dropped 7.82 points, or 4.8 percent, to end at 155.08 at lunchtime.