As part of a cooperative effort between the State Securities Commission and the Korea Exchange (KRX), the two organizations held a seminar yesterday in Ho Chi Minh City to talk about listing Vietnamese companies on the Korean bourse.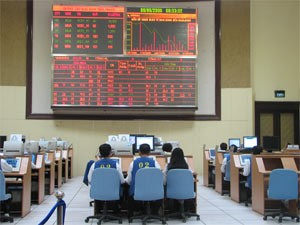 The Korean Exchange calls on Viet Nam's companies to list on its bourse (Photo: T.C.)
A representative of KRX outlined the requirements and procedures for a company to be listed on the KRX, as well as the advantages of doing so.

"Listing on the KRX will help firms raise additional capital easily due to its high liquidity," he said.
Other advantages include low underwriting fees and the strong interest of Korean investors in foreign listed companies.
KRX will assist clients with marketing in order to attract investor interest and listing consultants will be employed to expedite the process of eligibility audits for companies wishing to list on the bourse.
Post-listing support services will include signing contracts to provide liquidity in the event that trading is not as high as desired, and the anticipation of trade volumes to offer suitable prices.
KRX will also ask major securities companies to cooperate in the production of analysis reports. Attracting investor interest will be a continuing effort.
Chy-Jang Oak, President of KRX's Stock Market Division, said about 60 Vietnamese businesses have been studying the conditions for listing shares on the KRX adding that some of them are ready to join the Korean stock market. Vietnamese enterprises could list all or only part of their shares on the KRX.
"We highly appreciate the Vietnamese stock market's development, particularly the growth rate of listed firms. South Korea will invest KRW600 billion in foreign stock markets, among them is Viet Nam," he said.