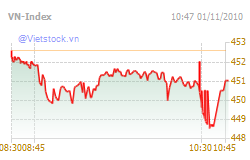 Movements of VN-Index on November 1. Photo: vietstock.vn)

Vietnam's benchmark VN-Index sank on November 1 as the market lacked of supportive information, sending liquidity on the trading floor to the lowest level in ten months.
The index of 266 companies and five mutual funds listed on the Ho Chi Minh Stock Exchange slipped 0.35 percent, or 1.57 points, to finish at 451.06 points.
Trading volume on the city bourse severely fell over the previous trading session as just around 22.15 million shares changed hands at a value of VND550 billion.
On the index, 56 stocks advanced, 138 declined, while 77 stalled.
PetroVietnam Fertilizer and Chemicals Corporation (DPM) won the position of most active share in volume with 1.25 million shares changing hands. It was the only share on the city bourse whose trading volume was above 1 million shares today.
It was chased after by sugar producer Société De Bourbon Tay Ninh (SBT) with 987,100 shares.
Vinh Son - Song Hinh Hydropower Joint Stock Company (VSH) came next with 780,010 shares traded.
DESCON Construction Corporation (DCC) contracted 4.94 percent to trade at VND25,000.
Thien Nam Trading Import Export Corporation (TNA) shrank 4.88 percent to VND31,200.
Chuong Duong Beverages Joint Stock Company (SCD) dropped 4.86 percent to VND23,500.
Vietnam Golf Tourism Joint Stock Company (VNG) advanced the second day, adding 4.7 percent to trade at VND15,600.
Stationery producer Thien Long Group Corporation (TLG) rebounded 4.63 percent to VND29,400.
Techno - Agricultural Supplying Joint Stock Company (TSC) edged up 4.49 percent to VND16,300.
The smaller bourse in the north also opened week in low note as the Hanoi's HNX-Index plummeted 1.78 points, or 1.58 percent, to 111.08 points. Trading was subdued as just around 16.1 million shares traded, worth VND312.6 billion.
The UPCoM-Index slipped 0.09 points to 42.26 points. A total of 11,000 shares were traded at VND2.1 billion this morning.