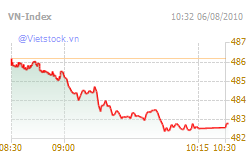 Movements of VN-Index on August 6. (Photo: vietstock.vn)

Vietnam's benchmark VN-Index declined for the third day in a row August 6, as the stock market did not find necessary support to prevent the index from falling.
The shares of 251 companies and four mutual funds listed on the Ho Chi Minh Stock Exchange finished at 482.82 points, losing 0.7 percent, or 3.39 points.
Of the index, 53 stocks gained, 156 dropped, while 46 treaded water.
Liquidity on the city bourse severely fell to its lowest level in a month, 36.66 million shares, worth VND1.03 trillion.
Vinafco Joint Stock Corporation (VFC) was the most active stock by volume with 1.4 million shares changing hands. The company's shares traded up 4.49 percent.
From July 26 to 29, Vietnam Investments Funds I.L.P, a major shareholder of VFC, sold 300,000 shares, reducing its holdings to 1,379,016 shares, accounting for 6.9 percent of VFC's chartered capital.
From August 9 to September 30, Vietnam Investments Funds I, L.P, registered to sell 1 million shares, sending its holdings to 379,016 shares, restructuring investment category.
Transport company Thuan Thao Corporation (GTT), located in the coastal central province of Phu Yen, tagged along with 1.07 million shares.
It was followed by Thanh Cong Textile Garment Investment Trading Joint Stock Company, which closed down 4.95 percent to VND21,100 today, with more than 1 million shares traded.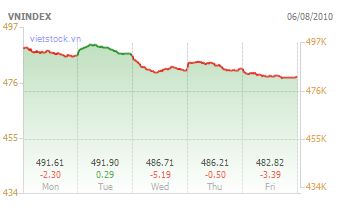 Movements of VN-Index from August 2 to 6. (Photo: vietstock.vn)
Cadovimex Seafood Import-Export and Processing Joint Stock Company (CAD), which contracted 7.26 percent to VND11,500, was the biggest loser on southern market. The company will issue 800,000 bonus shares to its current shareholders at a ratio of 10:1.
Petroleum Equipment Assembly and Metal Structure Joint Stock Company (PXS) gave up 4.96 percent to VND23,000. The company announced its net profits for the first six months of the year to be VND21.68 billion, which satisfies 64 percent of this year's goal; the company's profits for the second quarter reached VND16.83 billion.
Foreign Trade Development and Investment Corporation of Ho Chi Minh City (FDC) and South Vietnam Container Shipping Joint Stock Company (VSG) both edged down 4.84 percent to VND41,300, and VND11,800 respectively.
From August 9 to October 8, Do Hoang Hai, father of Do Le Hong Chau – member of FDC's Board of Directors, registered to buy 151,000 shares and sell 112,000 shares, sending his holdings to 816,605 shares, restructuring his investment category.
In the same period, Tran Lan Thao Nguyen, daughter of Tran Huu Chinh – chairman of FDC, registered to sell 100,000 shares, and buy 120,000 shares to restructure her investment category. Her holdings will be at 132,145 shares after the transaction.
Hapaco Group Joint Stock Company (HAP) advanced 4.89 percent to VND19,300.
Information and Networking Technology Joint Stock Company (CMT) curbed its eight-consecutive-trading-session losing streak, rising 4.8 percent to VND34,900.
Meca Vneco Investment and Electricity Construction Joint Stock Company (VES) added up 4.7 percent to VND31,200.
Hanoi's HNX-Index slashed 1.31 points, or 0.89 percent, to close at 146.14. Trading volume dropped to 27.53 million shares, valued at approximately VND738.48 billion.
The UPCoM-Index also dipped 0.83 points to 50.41 as of 11 am local time. A total of 193,910 shares changed hands at VND2.99 billion.