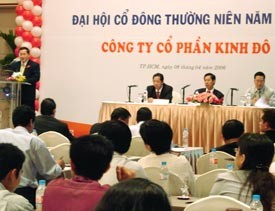 The annual shareholder meetings approved the plan to raise chartered capital in quickly. (Photo: T.C)
Viet Nam comes closer to WTO's accession and many businesses are planning to mobilize more fund in order to strengthen their competitiveness.
While the stock demand is still high, many companies take the chance to mobilize more capital.
The plans by Kinh Do Corporation and Savimex Company were approved a few days ago.
The Hanoi P&T Construction & Installation Company (Hacisco) has just announced the distribution of 500,000 bonus shares and issuance of an additional 400,000 shares at VND 35,000/share as part of the plan of mobilizing VND 14 billion to restructure the company.
Meanwhile, the VTC Telecommunications Company is allowed to issue 612,260 shares to existing shareholders at the ratio of 3 : 1.
The Bach Tuyet Cotton Corporation (BBT) is also preparing applications to offer 2 million shares increasing its chartered capital to VND 90 billion.
Related Articles:
Two More Enterprises Are Licensed To List
Viet Nam's WTO Accession Warms Up Stock Market