While investors sell off shares to retreat from a prolonged bear market, many listed enterprises announce to issue bonus shares for their shareholders.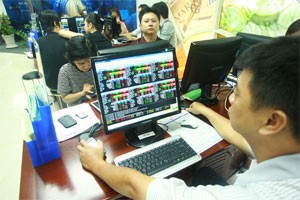 Many listed enterprises issue more shares despite a prolonged bear market (Photo: Minh Tri)
Investment and Construction Project JSC No. 3 says it will offer shareholders bonus shares at the rate of 25 percent.
Hanoi-listed electricity cable producer Thien Truong announces to pay dividend in shares at the rate of 15 percent, while mineral miner Binh Thuan Hamico issue more than 2.5 million additional shares to pay dividend at the rate of 20 percent.
Some others including pharmaceutical firm OPC pay dividend in both cash and shares at the rate of VND1,000 per share and two shares for every one held.
Many listed firms have registered to issue bonus shares this month despite the slumping market.
Construction company PetroVietnam – Nghe An released the biggest amount of bonus shares this month, issuing 44.5 million new shares that will be offered to shareholders at the rate of 445 shares for every 100 held.
The benchmark VN-Index has slipped 16 percent this year. The Asian Development Bank said the Vietnamese stock market lost the most in the region, while other markets remained at above pre-crisis levels.
Statistics show there are 11 companies making debut on the stock exchange last month, with the total capitalization value of nearly VND3 trillion (US$150 million).
Their shares, however, have dipped into the red and been sold off heavily.
Share price of property firm Century 21 plunged more than 50 percent to below VND16,000 per share after the firm started listing on the Ho Chi Minh Stock Exchange two weeks ago.
Financial experts say listed firms were forced to issue bonus shares, which had been on schedule earlier.
Yet some companies still delay their share issuance due to the negative market.
Tu Liem Urban Development Joint Stock Company has earlier gained approval at the annual general meeting to double its registered capital of VND328 billion ($16.4 million) through share issuances.
The Hanoi-based builder has eventually announced to halt the issuance due to bearish market.
Figures from the bourses show in the first seven months of 2010, the amount of cash dividend reached nearly VND20 trillion, while the amount from additional share sales was VND5 trillion only.
The figures show share issuances are not as efficient as dividend payments, says a broker in HCMC.
Cash dividend will encourage investors to reinvest in companies as stock remains attractive in long terms, says Nguyen Hoang Hai, general secretary of the Vietnam Association of Financial Investors.