Many listed firms announced at their annual general meeting (AGM) that they would issue more shares to raise chartered capital this year amid the stock market remains very bearish.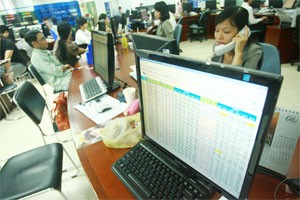 A computer screen shows share prices updated on the Ho Chi Minh Stock Exchange (Photo:Minh Tri)
The rubber firm Da Nang with trading code of DRC, said it achieved shareholders' approval to issue around 7.7 million bonus shares with the two-for-one ratio.
The Ho Chi Minh Stock Exchange-listed firm expects its chartered capital will increase to more than VND230 billion (US$11.5 million) from VND154 billion.
Despite the large additional share issue, DRC set earning target this year at low level, with pretax profit expected to reach VND200 billion, a decrease of 22 percent from last year's goal.
CuChi Commercial and Industrial Developing also made a similar move, planning to raise the chartered capital to VND140 billion ($7 million) from VND90 billion by issuing 5 million bonus shares.
The amount that is raised from the issue will flow into the project on an industrial zone in the outlying district of Cu Chi in the last quarter of the year, the HCMC bourse-listed property firm said.
However, its target of net profit this year was set at VND23 billion only compared to VND23.6 billion last year.
Hanoi-listed freight forwarder Hai Minh will also issue 850,000 new shares to offer to strategic partners at the price of VND15,000 per share and existing shareholders at the five-for-two ratio.
Experts said among listed firms planning to raise chartered capital via share issues were property firms. Most of them have a high total debt to equity ratio, so they struggled to borrow from banks.
However, brokers warned that investors would likely to shun the issue as the stock market remains in a losing streak.
According to the Vietnam Association of Financial Investors, investors should be very cautious before buying shares in the listed firms that plan to make a dilution.
They should analyze the targeted profit rate of the firms to measure their price-to-earnings and earnings-per-share ratios after the dilution, the association noticed.
"Raising chartered capital through new share issues will lower the return-on-capital ratio. For example, a listed firm has a share price of VND80,000 per share, with the return-on-capital rate of 50 percent. The firm dilutes its shares to raise the chartered capital with a one-for-one ratio. The return-on-capital ratio will drop to 25 percent after the dilution and its share price will amount to VND40,000 or less, which see shareholders incur losses," said a financial expert.