An Giang Fisheries Export Import JSC, or Agifish, made negative earning results in the period of 2008 and 2009, but it soon roared back strongly last year to become the fourth out of Vietnam's ten largest seafood exporters.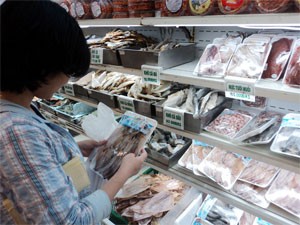 A girl browses seafood products at a HCMC-based supermarket. Agifish, one of Vietnam's 10 biggest seafood exporters, looks set to set aside a large provision against its financial investment (Photo:Minh Tri)
Figures show that the Ho Chi Minh City-listed firm earned a sales of VND1.8 trillion (US$90 million) in 2010, a year-on-year increase of 23 percent.
Vietnam's export turnover of basa fish last year amounted to 659,300 tons worth $1.42 billion, of which Agifish made $62 million, a year-on-year increase of 11 percent.
Analysts said the positive revenue came from the increasing consumption of basa fish worldwide combined with the stronger US dollar.
The Mekong Delta-based company also achieved some improvements after becoming a subsidiary of Hung Vuong Corporation.
Hung Vuong, a seafood processor in the Mekong Delta province of Tien Giang, announced a public offer to purchase 3.75 million shares in Agifish. The deal increased the total Agifish shares held by Hung Vuong to 6.5 million, equivalent to 51.08 percent of Agifish's registered capital.
The acquisition helped Agifish bring down the ratios of selling and administrative expenses on income in 2010 and keep the ratio of cost of goods sold on net sales at the rate of 88.6 percent, a decrease of 3.5 percent.
The parent firm's 250-hectares fish farm is a stable supply of raw fishes for Agifish's production with low costs, helping the listed seafood firm to have an edge over its local rivals.
Hung Vuong Corp also provided its subsidiary with an advanced processing technique, enabling Agifish to reduce its material consumption rate to 2.5 from 2.8 [Producing 1 kilogram of finished product requires 2.8 kilograms of raw fishes.]
However, Agifish's healthy sales were wiped out by its financial investments, which incurred heavy losses due to the bearish stock market. The company made a profit of VND51.4 billion ($2.6 million) measly in 2010.
Brokers said while other businesses gradually withdrew from the stock market, Agifish still keep a VND100-billion investment in the SSI Vision Fund, equal to nearly 78 percent of the registered capital.
The firm had to set aside an amount of VND12.4 billion as provision against the investment. Analysts warn Agifish's income will likely to be compounded by the fact that the firm looks set to increase the provision as the investment fund is hit hard by the plunging market.
Statistics show Agifish's cash ratio amounts to 7 percent, lower than the seafood sector's. The firm has VND48 billion ($2.4 million) in cash at the end of last year, but the amount plunged to VND19 billion in the first three months of 2011.
The VN-Index, the country's major stock index, has dropped 8 percent this year following concerns that higher borrowing costs will shrink corporate earnings and economic growth. The gauge declined nearly 2 percent on Monday to close at 431.63.