Many businesses have considered bonds as the most efficient class to mobilized capitals since the lending interest rate remained dramatically high and the stock market still marched south.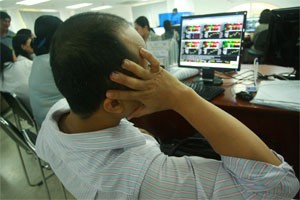 The bearish stock market and high lending interest rates lead local businesses to consider bonds as the most efficient class to raise more capitals for their operation (Photo:Minh Tri)
The State Bank of Vietnam in February recognized a rate cap of 14 percent on dong deposits that had been established earlier by the country's bank association. Market deposit rates, however, have exceeded that limit, with some banks even offering 19 percent.
Lending rates, meanwhile, have reached as high as 28 percent, making things very difficult for many businesses.
The central bank is trying to keep credit growth at below 20 percent this year in an attempt to control inflation, which stood at nearly 20 percent this month.
Statistics from the Vietnam Chamber of Commerce and Industry show measly 20 percent of local businesses made positive earning results last year, with the lending interest rate of 16-20 percent per annum.
Many companies said they would reduce their operation if the lending rate kept moving up and the economy became worse. Financial experts, meanwhile, warned that commercial banks hardly provided long-term loans.
The stock market has been slumped since early this year, leaving local businesses grappling to raise more funds for their operation through share issues, they added.
Many listed firms announced to delay plans on raising registered capitals, with others said dividends were heavy pressures for them.
Analysts noticed Vietnam's bond market reaches around 16 percent of GDP [gross domestic product], with the government bond amounting about 13 percent and the business bond reaching more than 3 percent only.
"Vietnam's bond market is very potential compared with other Asian countries'," an economist in Ho Chi Minh City told Dau Tu Tai Chinh Newspaper.
The primary bond market has grown significantly, increasing nearly 50 percent year-on-year in 2010 and worth more than VND50 trillion (US$2.5 billion).
Earlier only large state-owned companies including shipbuilder Vinashin, construction giant Vinaconex, utility EVN and petrol supplier PetroVietnam issued bonds. Listed firms including Sacombank, LienVietBank, Vincom and securities company SSI are now among enterprises issuing bonds.
Vietnam's government bonds advanced last week on speculation banks are buying more dong-denominated debt after credit restrictions and interest-rate increases reduced commercial lending. The dong gained.
Two-year bond yields fell 20 basis points, or 0.2 percentage point, to 12.67 percent, according to a daily fixing rate from banks compiled by Bloomberg. The dong strengthened 0.5 percent to 20,625 per dollar as of 5:19 p.m. Thursday in Hanoi, according to data compiled by Bloomberg.
The central bank set the reference rate at 20,658 Thursday, compared with 20,663 Wednesday, according to its website. The currency is allowed to trade up to 1 percent on either side of the rate.