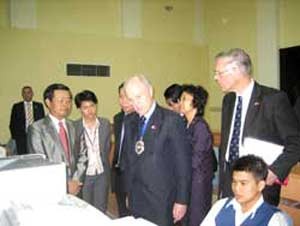 Mr. John Stuttard (C) and LSE officials tour the HSTC office.
A delegation from the London Stock Exchange (LSE) led by the Lord Mayor of the City of London, John Stuttard, paid a visit to the Ho Chi Minh City Securities Trading Center (HSTC) on May 4 to promote cooperation between the two stock bourses.
Mr. Stuttard struck the bell at the HSTC three times to open the last business day of the week and to mark the first step of the cooperation.
Stuttard said he was very appreciative of the rapid development of Viet Nam's stock market and the successful privatization of state-owned companies.
He emphasized that the Vietnamese stock market was of great interest to London's financial circles, who wished to promote cooperation between the LSE and the HSTC by paving the way for companies to be listed on both stock exchanges.
For instance, they are ready to cooperate with Ho Chi Minh City in training qualified staff members for the highly demanding financial sector.
Stuttard also had a discussion with senior executives of several commercial banks in the city. They swapped ideas about training Vietnamese employees in London, listing Vietnamese companies on the LSE, and setting up branches in both countries.
The Vietnamese officials expressed their appreciation of Mr. Stuttard's words, describing them as essential at this current stage in Viet Nam in the context of Viet Nam's WTO membership.
John Stuttard said that he would try his best to facilitate cooperation between the two countries in training to promote the development of human resources for the country's financial sector.
He also met with Mr. Nguyen Thanh Tai, Vice-Chairman of the Ho Chi Minh City People's Committee, to discuss cooperation in financial market development between the two cities.
At present, there are 600 companies listed on the London Stock Exchange. However, 50% of the total value of market transactions are carried out by listed international companies, which must comply with the strict listing requirements set by the LSE for foreign companies.