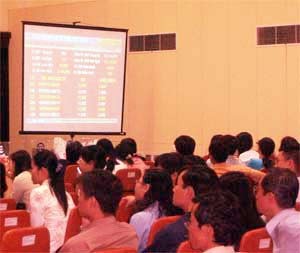 Local investors scan the VN-Index at the Ho Chi Minh Securites Trading Centre (Photo: TK)
The Ho Chi Minh Securities Trading Centre today witnessed a remarkable decline of the VN-Index when it slipped 15.89 points in the final trading session to close at 1077.88 points.
On the domestic market, there were 73 shares recording lower prices, while 19 other shares saw an increase in their price and 17 stood still. A total of 4.8 million shares and investment certificates valued at more than VND602.1 billion were traded in the final trading session.
BMC continued to secure the top list of shares having the biggest increase in price after it rose VND18,000 to VND393,000/share. The share was followed by TCT (+VND12,000), HBC (+VND5,000), FPT (+VND3,000) and HAX (+VND3,000).
Meanwhile, shares experiencing a decrease in price included KDC (-VND11,000), SFI (-VND10,000), DMC (-VND9,000), SJS (-VND9,000) and NAV (-VND7,000).
STB kept the first position, seeing the largest trading volume with its price matched at a price of 161,000 VND per share, followed by VFMVF1, FPT, KHP and REE.
At the Hanoi Securities Trading Centre, 50 shares out of 86 listed had price decreases, attributing to a drop of 4.91 points of the HASTC-Index to 335.84 points due to a reduction in the price of many blue-chip shares, such as SSI, BVS, ACB and BMI.
Today's winners and losers
Related link: