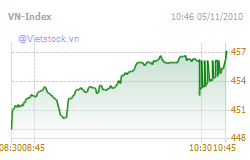 Movements of VN-Index on November 5. (Photo: vietstock.vn)

Vietnam's benchmark VN-Index jumped the second day on November 5 to close week in green as investors bought heavily after the State Bank of Vietnam announced it would intervene in local monetary market to ease the dollar exchange rate.
The shares of 266 companies and five mutual funds listed on the Ho Chi Minh Stock Exchange shot up 1.85 percent, or 8.32 points, to close at 457.27 points.
Among the index members, 206 advanced, 20 declined, while 45 remained unchanged.
Trading volume significantly improved over the previous session. Around 36.93 million shares changed hands at VND941.46 billion, an increase of 55 percent in volume and 80 percent in value.
Saigon Securities Inc. topped the list of most active shares in volume with 1.9 million shares changing hands.
It was followed by Saigon Thuong Tin Commercial Bank or Sacombank (STB) with 1.48 million shares.
Vinh Son - Song Hinh Hydropower Joint Stock Company (VSH) came in next with 1.17 million shares.
Hoang Long Group (HLG), which surged the daily maximum allowed limit of 5 percent to VND12,600, was the biggest gainer on the city bourse today.
PetroVietnam Finance Joint Stock Corporation (PVF) edged up 4.98 percent to VND23,200.
Urban Development and Construction Corporation (UDC) increased 4.96 percent to VND14,800.
Vien Dong Pharmaceutical Joint Stock Company (DVD) slumped the fourth consecutive day, giving up 4.9 percent to VND68,000.
Chuong Duong Beverages Joint Stock Company (SCD) collapsed the first time in four days, shrinking 4.67 percent to VND24,500.
Cuong Thuan Investment Corporation (CTI) contracted 3.66 percent to VND34,200.
Meanwhile, the smaller bourse in the north also performed well as the HNX-Index rose 3.09 points, or 2.82 percent, to finish at 112.8 points. Trading volume reached 29.2 million shares worth VND544.6 billion.
The UPCoM-Index inched up 0.24 points to 42.29 points as of 11:15 am local time. A total of 440,000 shares changed hands at VND12 billion.