Rice trader Mecofood have edges over other competitors, with high earning rate and steady export turnover, but its positive financial results is threatened by the high management expense, experts said.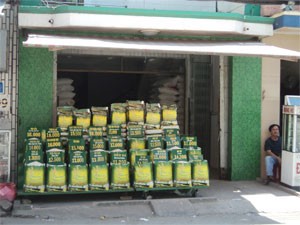 Various types of rice are sold at a grain shop in HCMC (Photo:Minh Tri)
The Hanoi Stock Exchange-listed company with the trading name as MCF has two rice mills in the southern province of Long An, with an output of 8-16 tons per hour.
Their storage capacity totals about 26,000 tons. The Long An Province-based firm has a long-time relationship with more than 30 big traders and dealers nationwide as it is among subsidiaries of Vietnam's leading rice exporter Vinafood 2.
Experts noticed that Mecofood made a regular export turnover as its parent company Vinafood 2 divided the total export quota it won annually among the subsidiaries and members of the Vietnam Food Association (VFA).
Statistics show that Mecofood was mandated to export an amount of rice that made over 90 percent of its total export for Vinafood 2 and VFA.
Mecofood's export is increasing annually on the fact that Vietnam's rice export is growing steadily, analysts said.
Since 2008, Mecofood has also beefed up domestic sales, with food processing maker Acecook Vietnam and supermarket chain retailer Metro and Saigon Co.op among its regular customers.
Experts said the rice trader will continue to focus more on the local market as domestic sales gave earning rate of 50 percent higher than the exported one.
The rate from the former is around VND450 per kilogram compared to the latter's rate of VND300 per kilogram.
Mecofood also specializes in producing rice milling machines, which are being provided to many rice exporters in Mekong Delta. Among its regular buyers are An Giang Import-Export JSC, Dong Thap and Long An food companies.
Despite its advantages, experts still warned investors to be cautious on making investment in the rice trader due to its large expenses of employee management.
The gross profit margin of Mecofood last year amount to 13 percent, which is higher than the average of 7 percent of other companies in the same sector. However, its net profit rate was only 2.5 percent due to a large management cost, which made up 7.2 percent of the total revenue in 2010.
The company owns modern equipments, but its factories' output of around 30,000-40,000 tons per year remains low, amounting to one fifth of other firms.
Song Hau and Tien Giang Food Companies produce an average amount of 200,000 tons per year.
"The low registered capital of VND35 billion (US$1.75 million) also makes Mecofood grapple to raise funds for its business expansion," said a broker at a HCMC-based securities firm.
High lending rate this year, which is in the government's effort to fight against the accelerating inflation, also made a large impact to Mecofood's inventory capability, he told Dau Tu Tai Chinh Newspaper.
Vietnam now houses over 200 rice exporters, mainly small firms, which don't have enough warehouses or processing capacity to fully meet export requirements, according to the Institute of Policy and Strategy for Agriculture and Rural Development.
The country exported nearly 1.7 million tons of rice worth US$849 million in the first quarter of this year, an increase of 17 percent and 7.3 percent respectively over the same period in 2010, according to the General Statistics Office.