Sixteen companies that have received
approval to sell stock on the exchanges are making final preparations to list before the end of the year after a long time awaiting for healthy signal from the exchange.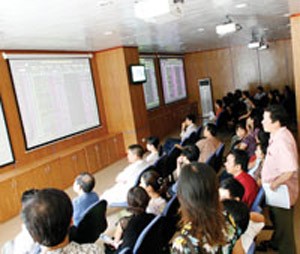 More listings in the near future will create more choices for investors
Hoang Anh Gia Lai Joint Stock Company plans to offer shares on the exchange this October. The company's application to be listed on the bourse was submitted six months ago and it plans to offer 120 million shares. 
Sonadezi Long Thanh and Vinaship are also preparing a stock offering in the near future. Many companies hope that offerings will help them increase their market liquidity more successfully than the free market.  
Hoang Anh Gia Lai shares have sold well on the free market, said Mr. Doan Nguyen Duc, the company's chief executive. An offering on the bourse will allow the shares to obtain even better results, he said. 
Listing on bourse has another benefit, said Mr. Huynh Anh Tuan, general manager of the SJC Joint Stock Company. It allows buyers and sellers to meet and conduct transactions directly, avoiding brokers and middleman. 
A flow of newcomers into the bourse will be a healthy signal and since such a flow will attract more investment from the shareholders and potential investors, said Mr. Doan Duc Vinh, chief executive of the Au Viet Joint Stock Company. 
More listings mean more choices for investors, Mr. Vinh said. Once shares are listed on the bourse, the prices of these shares will probably increase so both shareholders and potential investors can profit from them, he added.