Ho Chi Minh City's stock market currently have 36 companies listed while only nine have gone public in Ha Noi. However, according to experts, more 100 enterprises are expected to be listed in 2006.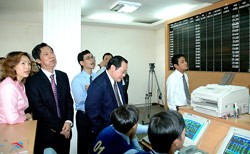 Investors follow stock prices in Ho Chi Minh City Securities Trading Center. (Photo: SGGP)
The domestic stock markets early 2006 was brought alive with the good results from current listed companies' operation in 2005, plus the two new listings of the Viet Nam Dairy Company VINAMILK, the TAYA Vietnam Electric Wire and Cable Company.
The privatization process has moved up another gear. In 2004 and 2005, over 1,400 enterprises have been privatized, accounting for the total 2,966 companies from 1992.
These enterprises are, however, small and medium sized. And the government currently owns only 12% of the total capital of companies needing privatization in Viet Nam.
Viet Nam is still a big cake for local and foreign investors because over 730 enterprises with abundant capital are waiting to be privatized in the next few years, according to some experts.
Currently, the total capital value in two bourses in Ho Chi Minh and Ha Noi city reached US$1.45 billion, accounting for only 3% of the GDP in 2005. The VN-Index in the first two months of 2006 increased to 416 points.
Particularly, more 100 enterprises are expected to be listed on the domestic stock markets and the total value of listed companies' shares will, as a result, amount to around US$2 billion by late 2006.
The coming privatizations of some giants including the Foreign Trade Bank of Viet Nam (Vietcombank) and two mobile networks Mobiphone and Vinaphone, coupled with the strong and stable economic growth rate of Viet Nam in the coming time are among the reasons for the recent surge in foreign investments in Viet Nam.
Many foreign investors, especially from Japan, continue to invest capitals in the Vietnamese market and at least US$400 million will be poured into Viet Nam by the end of 2006.
Related Links:
State Securities Commission of Viet Nam
Ho Chi Minh City Securities Trading Center