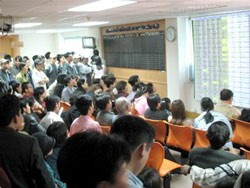 Investors need more information on the listed companies

The Listed Companies Club and Ho Chi Minh City Securities Trading Center (HOSTC) are jointly organizing a forum titled "A dialogue between listed companies and investors for their mutual development," at the Reunification Palace in Ho Chi Minh City on December 9.
The organizing board hopes the forum will be a bridge between the nearly 500 investors and listed companies by answering their questions and providing them more information on enterprises. The event will also lay the groundwork for opening an Association of Listed Stock Organizations.