Up to 63 percent of share prices on Vietnam's major stock exchange in Ho Chi Minh City are below the book value, while 27 percent are worth less than the face value, according to a report of a financial media.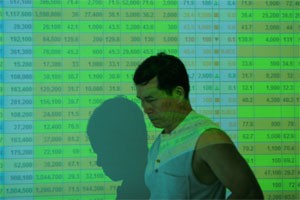 A man walks by a projector screen showing share prices at a HCMC-based brokerage. Investors remain unwilling to enter the market in spite of many share prices falling significantly (Photo:Minh Tri)
Statistics of stock market media Vietstock show 172 out of 281 stocks listed on the Ho Chi Minh Stock Exchange were being traded below the face value of VND10,000 per share, while 370 were worth below their book value.
Among the former are listed companies that suffered consecutive losses in many years, including tile producer Vitaly (VTA), catfish exporter Basa (BAS), beverage firm Tribeco (TRI), Sai Gon Maritime (SHC) and financial company Full Power (FPC).
A loss of VND58 billion (US$2.9 million) last year has seen Sai Gon Maritime's earnings-per-share (EPS) plunged VND15,000. EPS and the equity share capital of tile maker Vitaly moved in a similar direction, declining VND6,485 per share and VND1,295 per share respectively.
Figures from Vietstock also showed the price-to-book ratio (P/B) of nearly 50 listed firms was below 1x and their return-on-equity (ROE) was more than 20 percent. The price-to-earnings ratio and the P/B of the entire market remain low, equaling to 8.33x and 1.49x respectively.
Experts said the market still did not reach the bottom yet as its recent rallies came from the fact that blue chips regained, while small caps continued to fall.
They also said one of the main reasons causing the decreases in share prices was the gloomy macroeconomic.
"Without the rallies of some stocks including insurance enterprise Bao Viet (BVH), property firm Vincom, Masan Group (MSN), Vietinbank (CTG) and Vietcombank (VCB), the benchmark VN-Index should have been below 420," said a broker at a HCMC-based securities firm.
"Especially, many stocks almost lost their liquidity, keeping dropping on the VN-Index's retreats and treading water amid the index's rallies. Despite share prices significant low, investors are still standing on the sideline, while others are waiting for chances to sell off their shares."
Vietnam's benchmark VN-Index, which tracks 281 companies and five mutual funds listed on the Ho Chi Minh Stock Exchange, slid 4.02 percent, the most since November 26, 2009, to 483.68 on February 21, with 253 out of 280 stocks losing ground. The gauge has lost 10 percent since the market reopened after the Tet holiday.
The benchmark accelerated on March 11th as investors regained confidence, springing 2.61 percent, or 12.57 points, to close at 495.06 points.