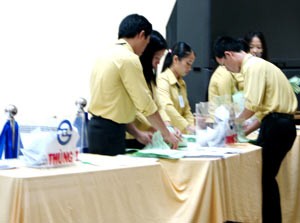 A public auction in Ho Chi Minh City Securities Trading Center. (Photo: T.C)
The government has released a decree on the issuance of corporate bond on May 19.
The issuer of bonds will have to take legal responsibilities for the issuance, paying, and loans effect. The issuer can use the money raised for investment projects, restructure of its medium and long term loans and increase of the enterprise's capital size.
Corporate bonds must have the minimum par value of VND 100,000. Other par value must be a multiple of the minimum required and will be determined by the issuer in each respective issuance.
The issuing of bonds must guarantee the openness and transparency in order to protect the legal benefit of investors. The issuance must also comply with other regulations in this decree and other related regulations.
Eligible bond investors include Vietnamese individuals, institutions, overseas Vietnamese and foreigners.
State-owned enterprises are prohibited to use state fund to buy corporate bonds.
The decree comes into effective on July 1, 2006, replacing the government's old decree of on temporary regulation for the issuance of stocks and bonds of state-own enterprises.