Strong trading at oil and gas companies and securities firms continued to prop up both stock exchanges on August 18.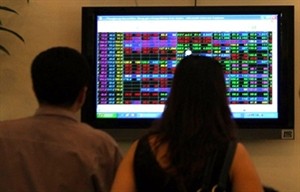 Investors watch trading at Saigon Securities Inc in Hanoi (Photo: VNA)
Many oil and gas shares hit their ceiling prices, like Petroleum Industrial & Civil Construction (PXI) and Petroleum Pipeline and Tank Construction (PXT) on the Hochiminh Stock Exchange and PetroVietnam Northern Gas (PVG) and Petroleum Pipeline and Tank Construction (PVE) on the Hanoi Stock Exchange.
Steady growth of Saigon Securities Inc (SSI) led gains among securities companies. SSI climbed 4.54 percent, while others like HCM Securities (HCM), Bao Viet Securities (BVS), VNDirect Securities (VND), Kim Long Securities and AgriBank Securities (AGR) increased from 1.7-3.7 percent.
The positive mood spread through the whole market, pushing up both stock indices. In HCM City, the VN-Index inched up 0.14 percent to close the session at 605.08 points while the VN30, which tracks the top 30 shares with the highest market value and liquidity, also increased 0.29 percent to stand at 647 points.
The market position was good with 124 codes posting gains, 87 losing and 93 closing unchanged. Meanwhile, the HNX-Index on Hanoi's bourse advanced 1.1 percent to end the day at 83.14 points as gainers doubled losers.
Liquidity soared, driven by robust cash inflow. Over 216.6 million shares worth a combined 4.866 trillion VND (230.6 million USD) were traded on the two exchanges by the end of the session.
Around 15 million shares of dairy giant Vinamilk (VNM), worth over 1.855 trillion VND (88 million USD), were exchanged via negotiations on August 18, helping lift liquidity. These shares were likely purchased by F&N Dairy Investment Pte Ltd, as the company registered last week to buy 15 million VNM shares.
However, VNM's price fell by 0.86 percent on August 18 to close at 115,000 VND (5.45 USD) per share.
Real estate FLC Group (FLC) continued to be the most active stock nationwide on total trades of nearly 19 million shares. Its price grew 0.8 percent to 13,300 VND (0.63 USD) a share.
Contrasting with domestic investors' moves, foreign investors decided to sell out on August 18. They concluded as net sellers on both markets, responsible for a combined net sell of 51 billion VND (2.4 million USD) worth of shares.