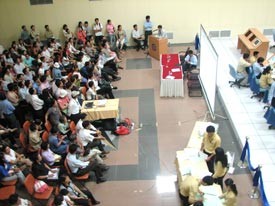 The auction of Petrolimex Gas shares has attracted more investors go to the Ho Chi Minh City Securities Trading Center. (Photo: T.C)
In May 10 afternoon, Petrolimex Gas Joint-stock Company (PGC) sold 4.05 million state-owned shares to the public at Ha Noi Securities Trading Center (HASTC) and Ho Chi Minh City Securities Trading Center (HSTC).
The auction attracted the biggest number of bidders with 2,176 investors, breaking the previous record set by Viet Nam Ocean Shipping Agency (VOSA) auction with 1,608 investors involved.

Prior to the auction, the total buying volume has reached 31 million shares, 7.7 times greater than the offered volume.
The imbalance between supply and demand has pushed the average matching price to VND 56,080/share. The highest matched price was VND 96,500/share and the lowest matched price was VND 50,900/share. There were 262 investors winning the bidding, including 16 institutions and 246 individuals.
Foreign investors snapped up 427,000 million shares, 10% of total offered volume.
The total shares offered in this auction were sold for VND 227.12 billion. The state has received additional VND 156.24 billion over the initial price.
PGC is one of the companies which are subjected to Decision No 528/QĐ-TTg from Prime Minister to list on the market. This IPO aimed for publicizing the company to meet the listing qualifications and increasing its stock' liquidity.
Related Articles:
VOSA to Continue with Stock Offering
Pharmaceutical Shares Are Welcome